How to Launch Tap to Pay on iPhone
In this
pre-recorded webinar,
Derik Sutton, CMO of Autobooks, is joined by Chris
Spiek
, CPO of
Autobooks
, as they discuss the small business
market
, how Tap to Pay on iPhone will impact
the ways
customers will
accept payments,
and how this
crucial
functionality
will allow
your financial institution to better support small business customers while staying ahead of third-party competition.
Tap to Pay on iPhone is now available to financial institutions. This new function works seamlessly with Autobooks, a digital payment acceptance solution that integrates with your digital banking platform. It allows small business customers to accept in-person, contactless payments right on their iPhone — directly inside your mobile banking app. No extra terminals or hardware needed.
Click here to watch in a new window.

The following conversation was edited for clarity and brevity.
A brief intro to Autobooks and our solution
Derik Sutton: Autobooks was founded in 2015 in Detroit, Michigan. We have currently about 1,200 banking clients live with our application, which includes digital invoicing and online payment acceptance, and now Tap to Pay on iPhone.
These are all features that we directly integrate into your existing digital banking channels, both online and mobile, so that businesses and nonprofits can get paid directly with your financial institution. We embed those capabilities directly into your experiences so that they feel and come across to your businesses and nonprofits as features of digital banking — not as a standalone offering — but more features of your digital banking, which we believe is important.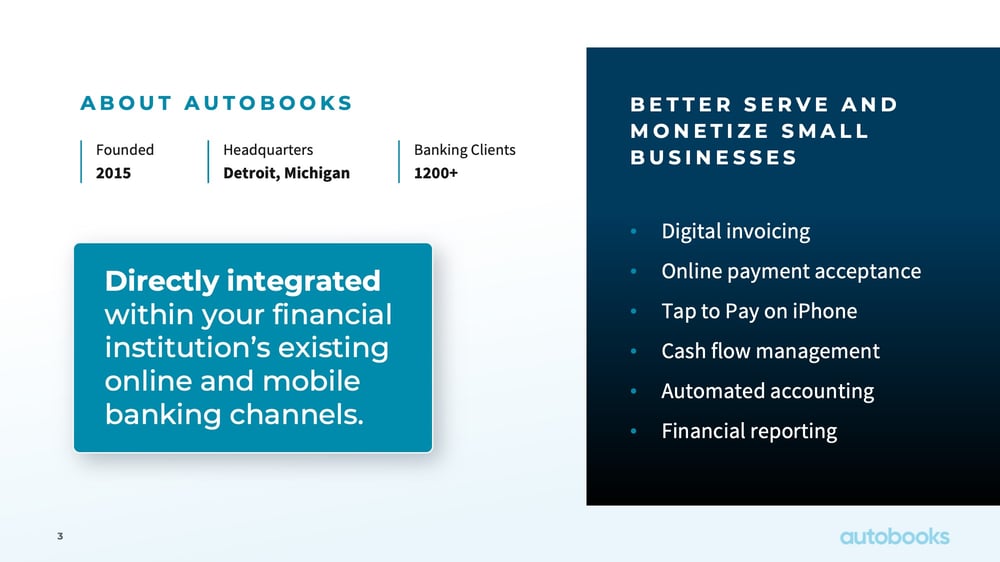 In addition to the aforementioned integrated receivables capabilities, we also offer the ability for the business owner to upgrade into our cash flow management, accounting, and financial record keeping capabilities as well. So, think about us as a way to facilitate and help businesses and nonprofits get paid directly through your banking apps. And then once paid, they can also manage their business directly with you, the financial institution.
Our digital banking partners
Derik Sutton: We partner with what we believe are the industry leaders in digital banking: companies like Alkami, Bottomline, CSI, Jack Henry, NCR, Q2, and a few others. These partnerships vary based on the specific partner, but at the end of the day each of these partners has our app integrated into their environment. If you're a customer of any of these technology platforms, there's a direct path for your institution to enable Autobooks capabilities.
Now available: Tap to Pay on iPhone!
Derik Sutton: And now coming soon, with Q2 as our first launch partner, and then other digital banking partners to soon follow, is Tap to Pay on iPhone. So for your business customers that need to get paid directly with their mobile device, they now have the ability to do just that directly from your mobile banking application and Autobooks.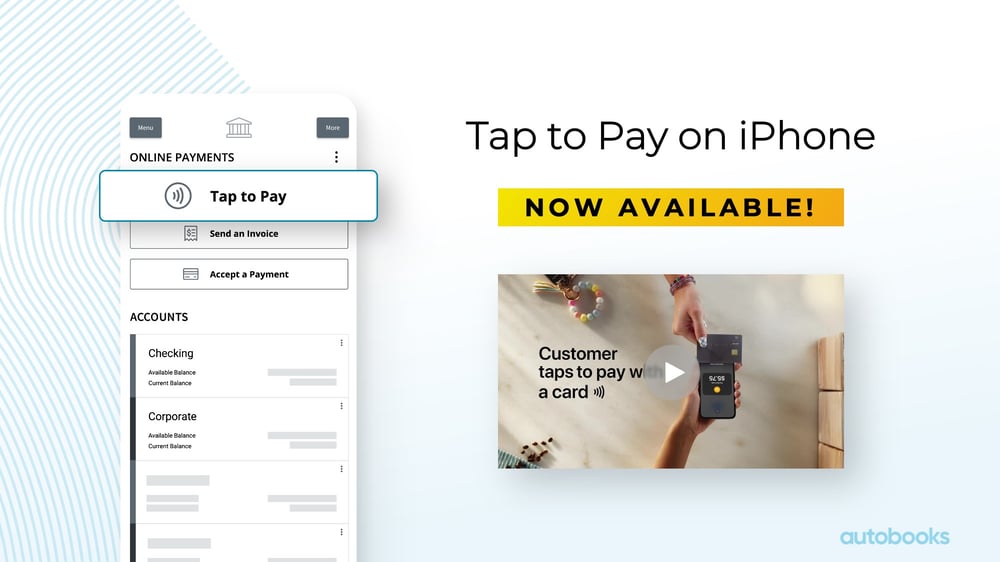 The state of small businesses
Derik Sutton: In market, there are about 33.2M small businesses according to the SBA, and there's another 64.6M independent workers, according to NBO partners. These numbers are very important when it comes to how they get paid. So, let's talk about it...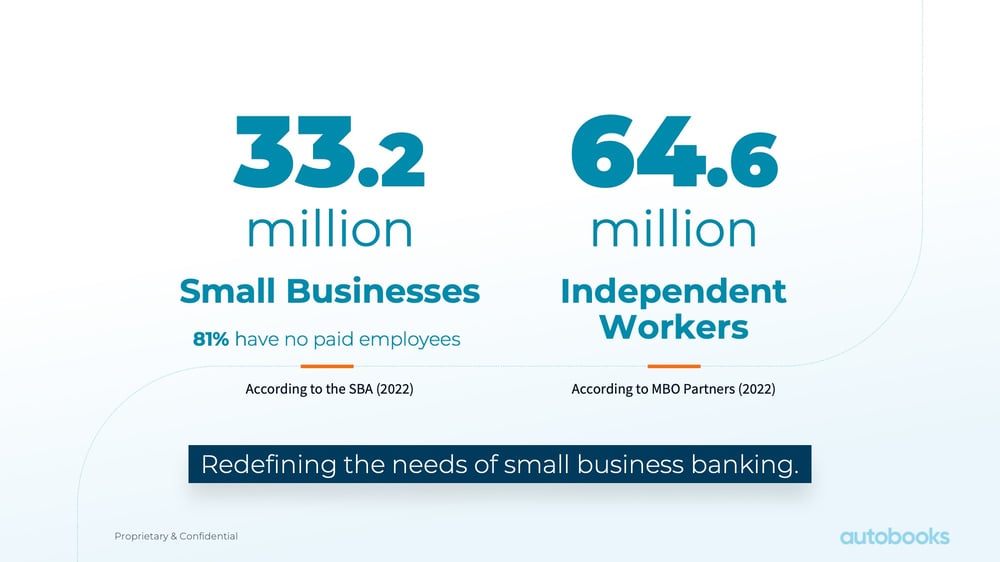 As you can see above, 81% of small businesses don't have employees. In other words, the vast majority of businesses in the economy are really sole proprietorships. You know, they may have a couple of contract workers, but the business owner are not only managing accounts payables and receivables, but they're also doing all the other work. So anything they can do to make their business more efficient, to make payment acceptance and business management easier and simpler, they're going to gravitate towards.
There are another 64.6M independent workers, according to NBO partners. These are businesses that are doing side hustles, gig economy workers, and so on, that maybe haven't formalized a tax structure and account relationship. They're typically landing in your retail account experience, but they have all of the behaviors of a small business. They've got customers, they've got a product or service they're pushing out, and they have a need to get paid.
The way that businesses get paid is changing
Derik Sutton: How businesses get paid today is changing in fundamental ways. Businesses are turning away from accepting cash and check in person to accepting in-app and online payments.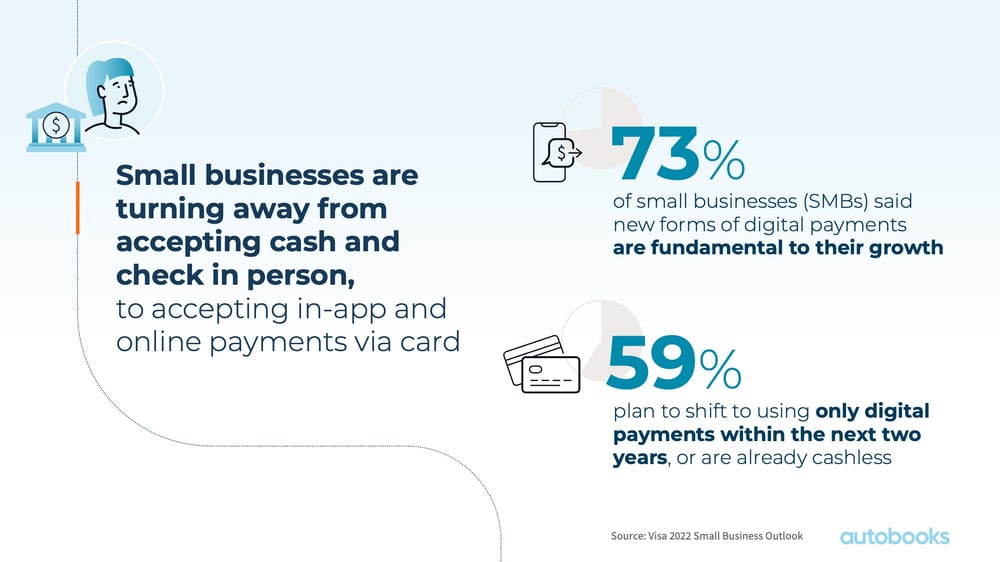 According to Visa, 73% of small businesses are searching for new forms of digital payments and they believe those to be fundamental to the way that they do business moving forward at the time of this survey in early 22. Already about 60% had planned to shift to an already shifted to digital forms of payments or payment acceptance.
The impact for you, the financial institution is that as these businesses move away from cash and check transactions, that starts to open up and invite competition. At one time, a local financial institution with their local branch network was really the only game in town — allowing a business owner to transact with the customer, deposit funds into an institution, roll up all the customer payments, get access to working capital, and so on.
As customer payment acceptance digitized, that opened up new opportunities for the business owner to use different types of payment methods or receivable methods to get paid: third-party apps like Square, PayPal, Venmo and more. As a result, companies like Square grew quickly, and now offer products and services that overlap with about 80% of what financial institutions offer, according to Celent. This means that Square is now a direct competitor for your small business customers.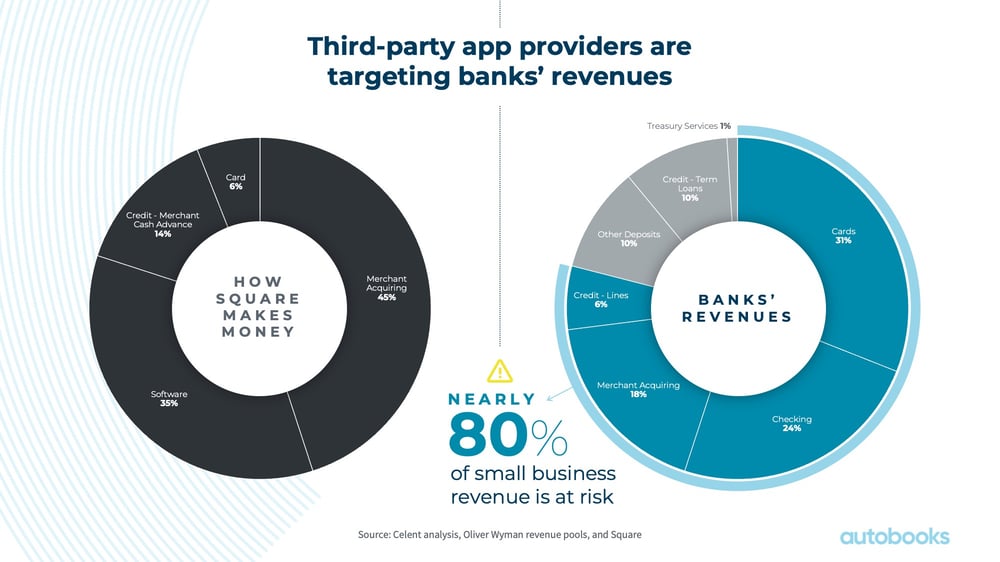 Every time you see a transaction flowing through a third party platform, you have to think about that customer potentially being a flight risk to your organization. At any point in time, if that app provider makes them a compelling offer and entices them to keep that money on their platform, those deposits have been lost to your organization.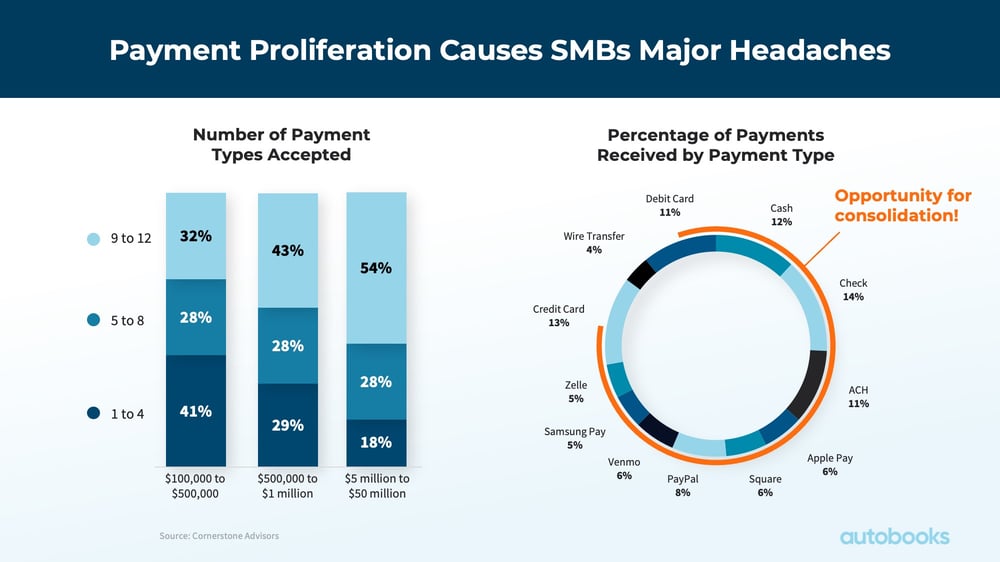 In addition to that, there's also the headache that a business owner has when it comes to using multiple apps to get paid. Above you can see the percentage of payment types received by these businesses. You can see 12% in cash, 14% in check, 11% ACH. And then there's all these other methods as to which these businesses surveyed get paid. Clearly, there is an opportunity to help the business owner consolidate and streamline their cash flow.
The challenge: small businesses have been historically underserved
Derik Sutton: The challenge though is that when a business visits your bank or your credit union website, or calls into your branch, they might ask, "Hey, I've got my customers that now want to pay me digitally. They want to pay me in-app, they want to pay me online, or they just want to simply pay me through a card. How can you help me?" How do you respond?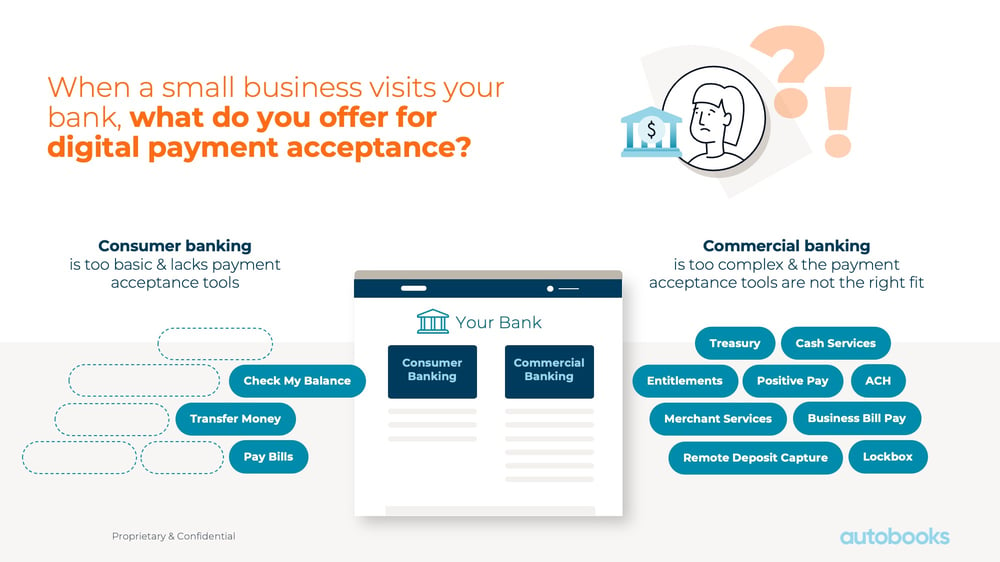 When these businesses look at the consumer side of your world, they're basically left wanting. You offer things like checking, balance transfers, bill pay, and so on —these very basic services that don't solve the aforementioned problem. On the commercial banking side, you're doing things like traditional merchant services, so a physical device plugged into an Ethernet cord or Wi-Fi, with a traditional card swipe. That use case doesn't really apply to someone who's working out of a pickup, managing a crew of 15 people on the road all day.
You might also offer traditional services like ACH batch management and wire services. But again, those services don't really help someone who might be away from the office or storefront, or even away from the customer, but still needs to accept a digital payment anyway. This is the challenge we want to help you solve. So that when customers come to your website, it looks and feels more like a page out of Square.
And even when these business owners go to Chase — you can see that Chase is using built-in card acceptance. They call it QuickAccept. It's now a differentiating feature for their business checking. So, they're leading with low to no-fee checking with a traditional $2000 minimum daily balance requirement, but with card acceptance built right into their app.
Some financial institutions are quickly adapting
Derik Sutton: Fast forward to today, and you can be like nbkc Bank. So just like Square or Chase — we've got hundreds of financial institutions that have reinvented their checking pages and their product pages. And now nbkc is leaning into it and telling their prospects, "Hey, you can now get paid by simply tapping on an iPhone, no other hardware required. And it's all part of the nbkc banking experience!"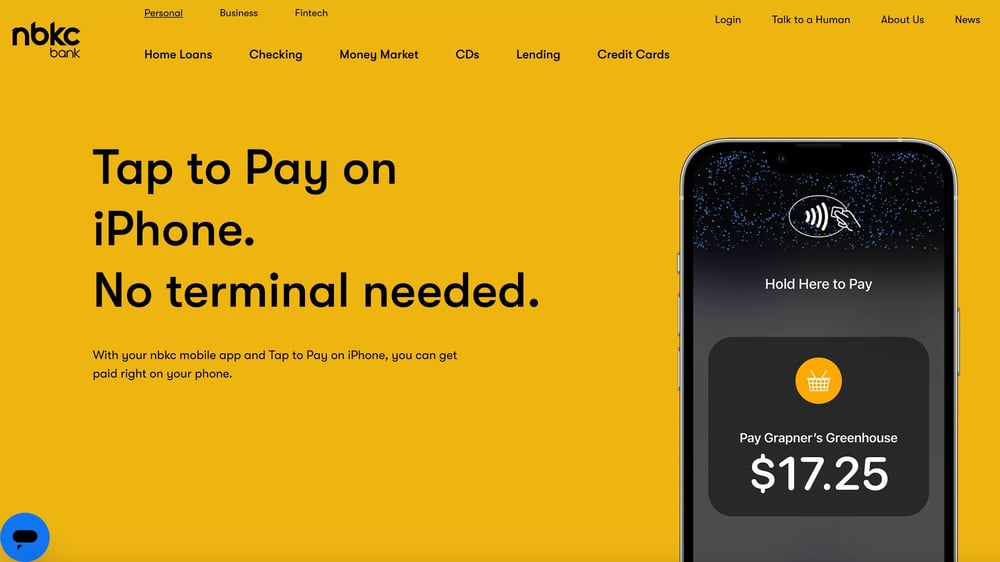 So when it comes to differentiating from the competition and standing out, launching Tap to Pay on iPhone is the next step. You can literally be one of the first institutions in the country to offer this service as a differentiated capability directly out to your customers and members and make it part of your core banking experience.
How to enable small businesses to get paid through your banking app
Derik Sutton: We effectively partner with your digital banking providers to leverage the existing real estate or the existing capabilities of online and mobile banking. We integrate our capabilities directly into their user interface.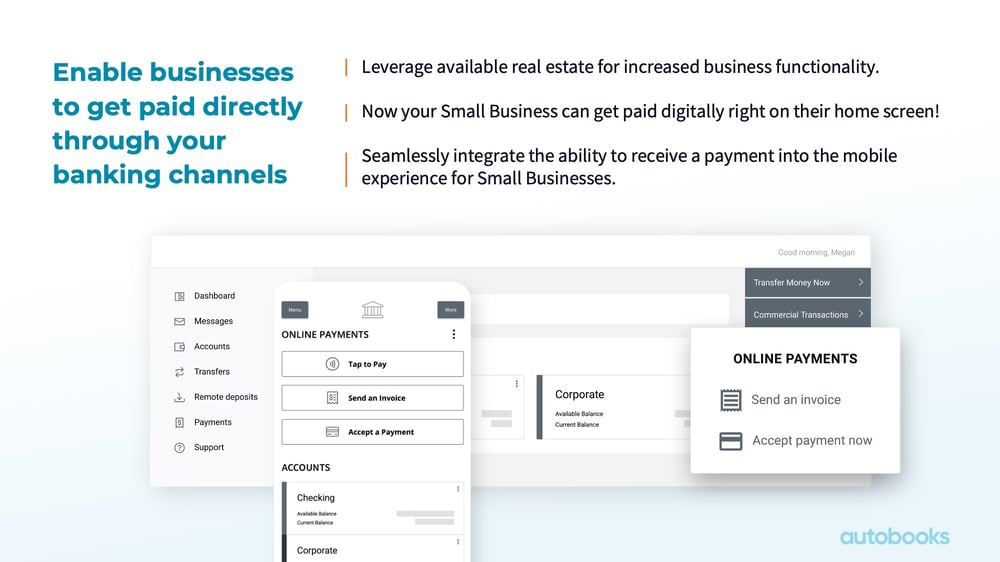 So you can see that Send an Invoice and Accept a Payment have become standard features, and are available to thousands of financial institutions. And now we have the addition of Tap to Pay on iPhone positioned directly next to these other powerful capabilities.
Some typical use cases
Derik Sutton: How have some actual businesses streamlined their payment acceptance, so that they receive funds directly into their account held at your institution?
Sending a line item digital invoice to a customer: We see a lot of trades, professional services, storage facilities, HOA, and the like rely on invoicing. Having the ability to build a professional digital invoice, automate delivery, and then receive digital payment — that is huge for many services-oriented businesses.
Sharing a QR code or payment link: Businesses and nonprofits can copy a QR code from inside of our system, so that they can get paid through just the snap of a camera. We see a lot of retail users rely on this, so they may display their QR code up in their retail storefront at a farmers market. We also see nonprofits, people running events and more, use the QR code.
Receiving a contactless payment, in-person: Now with Tap to pay on iPhone, people can get paid directly through their mobile banking app. Mobile retailers art and entertainment, trade and gig workers are already some use cases that we've seen come through.
We had a general contractor talk to our team. He basically said "Hey, I've been looking for a tool that would allow me to more conveniently accept and manage credit card payments. It's just been very difficult. We've had a relationship with Bank of America for years, but they don't have a really easy mechanism outside of like a Square terminal to address that need. But some of their fees are really exorbitant."
We spoke with a graphic designer who said, "Hey, I'm able to use Tap to Pay on iPhone without having to have Square connected on multiple devices. I do graphic design, so it's great to be able to take a payment right there on the spot, whether it's at a marketing show, flea market, a pop up, or just at the office." She recognizes this ability to not have to go manage multiple apps. She's got bank account and funds in one place. Now she can just present her iPhone and it's a simple, easy way for her to just get paid right on the spot.
We've shared just a few testimonials, but just know that we find use cases for Autobooks across a lot of different business profiles and nonprofit profiles. As you can see in the breakdown, we're seeing a wide range of businesses, even those beyond $20M in annual revenue.
To watch a more detailed discussion of the various use cases described above, just click here.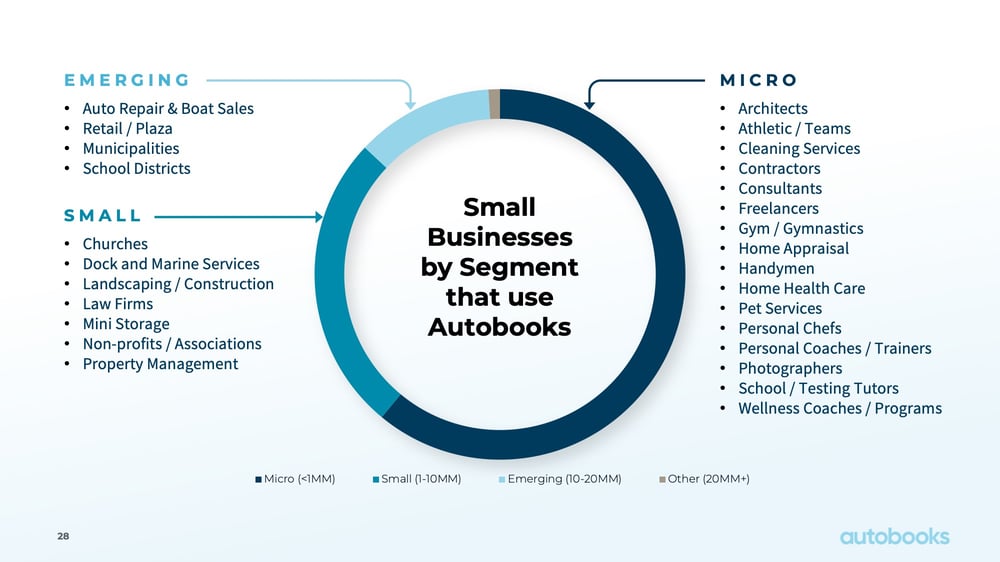 Watch a live demo of Tap to Pay on iPhone
Want to watch a live demo of Tap to Pay on iPhone? Our Chief Product Officer, Chris Spiek, demonstrates several transactions — all in real time! Just click here.
Some frequently asked questions
Have some questions about Tap to Pay on iPhone? Watch our CMO, Derik Sutton, and Chris Spiek, our CPO, address several important questions, such as the following:
How does the customer manage chargebacks?

How does the customer manage sales tax?

Can a business owner enable employees to accept payments?

Do these payments sync with other Autobooks features?

How does Autobooks overlap with our existing merchant program?

What is the cost for our financial institution?
Click here and here to hear the answers to the aforementioned questions, as well as a few additional questions sent in by webinar attendees.
Launch Autobooks and Tap to Pay on iPhone today
Ready to get started with Autobooks? It's as simple as following the three steps:
1. Select your digital banking partner
2. Complete the steps to enable Autobooks
3. Access on-demand training, go-to market resources, and more