Addressing the Small Business Moment of Need during COVID-19 and Beyond
Small businesses are a critical part of the national economy and the backbone of their local communities by producing valuable products, services, and essentials. They provide employment, drive the local tax base, invest in community programs, are more likely to donate to local charities, and encourage further entrepreneurship through ongoing innovation and healthy competition. But in this current climate, time is not on the side of the small business owner.
The Critical Role of Cash Flow
Small businesses rely on their financial institutions to provide the deposit, payment and lending products they need to effectively manage and grow their business. The number one priority for a business is to maintain healthy cash flow.
The average small business only has 27 days of cash reserves. When there is a disruption in how a small business can get paid, the results can be catastrophic. According to a special report on Coronavirus and Small Business from the U.S. Chamber of Commerce there is growing concern about cash flow with 59% of small business owners feeling comfortable with their current cash flow, compared to 80% in Q1.
Financial institutions that had previously invested in digital tools for small business have seen merchant portfolio's grow in recent weeks, whereas the rest of the industry has seen 30-50% reductions in payment volume due to dependency on card-present transactions. Since most banks and credit unions do not yet offer similar solutions, small businesses have turned to third-party non-bank providers to accept payments online.
With ongoing advancements in payment technology and shifts of consumer preference, managing a business, and its cash flow, has become more complex. Consumers now more than ever prefer paying with a card instead of cash and check, tapping a phone instead of swiping, and paying online versus in person. Across the country, small businesses that rely on face-to-face payments are having to quickly pivot to receive customer payments online and are seeking an easy and convenient way to shift to the new normal.
Understanding the Small Business Moment of Need
Due to the shift from in person to online, many small businesses are going to turn to their financial institution for payment advice.
What do you say when a small business customer calls and asks,"I have customers that want to pay me online, can you help?"
What Happens: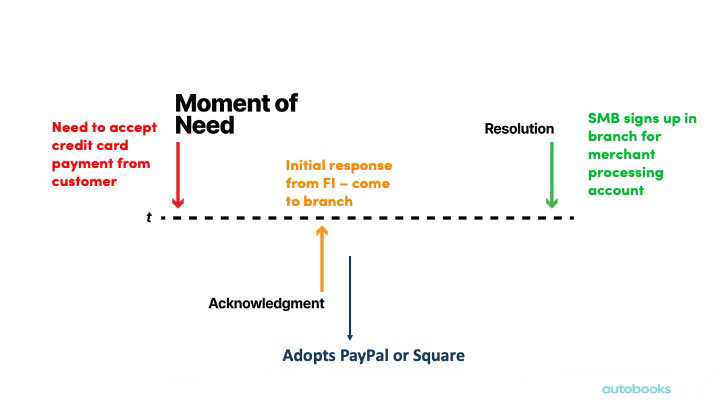 Moment of Need: When a small business owner needs to accept a credit card payment from a customer, they contact their bank for a solution.
Acknowledgement: The financial institution's response is to ask the business owner to come to a branch and sign-up for a merchant processing account. With that comes paperwork, upfront fees, and often times, a minimum balance requirement. They're told to process payments over the phone and to punch in the customer's credit card manually.
Resolution: At that moment you've lost them to a non-bank provider.
Non-bank providers are targeting small businesses that need to get paid online by creating a small business ecosystem that is designed to disintermediate the small business relationship with their financial institution. If financial institutions do not come to the table with solutions that help small business accept and manage online payments, they run the risk of losing a large segment of the small business population.
The good news is that small businesses owners would prefer to receive payment services from their financial institution. They're seen as a trusted provider and offer personal service. In order to compete, financial institutions need to offer near term payment solutions to help small businesses collect payments from customers online.
What Needs to Happen: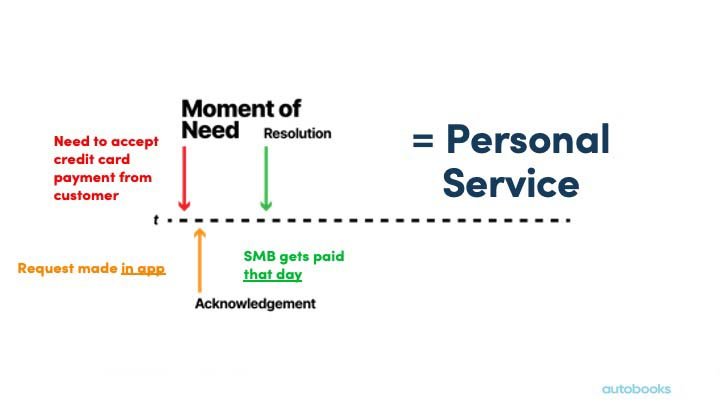 Moment of Need: When a small business owner needs to accept a credit card payment from a customer, they contact their bank for a solution.
Acknowledgement: The small business owner makes the request in app or online. Their request is complete in minutes.
Resolution: The small business owner can get paid that day.
What this scenario demonstrates is that there is a path for financial institutions to solve critical cash flow problems of small businesses by positioning themselves as trusted providers, addressing the moment of need, and offering personalized service that can't be emulated by non-bank providers.
How Your Financial Institution Can Help Small Businesses Get Paid Online
It starts with offering the ability to request and receive online payments, as that is the most pressing need for a small business. There's a tremendous opportunity to help small businesses by enabling them with business banking tools that do their job. This has been true before the recent pandemic and is especially true today.
Autobooks wants to partner with you to help small businesses get paid online. A small business can enroll directly into Get Paid w/Autobooks but the deposit, credit and lending relationship stays with your financial institution. When they receive a payment from a customer, it gets deposited directly into their existing checking account.