Why Autobooks is the ideal solution for small businesses today
In the first session of Autobooks ACCELERATE, Steve Robert discusses the Autobooks mission, the state of small business banking today, and how the two intersect with the Autobooks solution. Robert makes the case that financial institutions are in an ideal position to provide the best service to small businesses and independent workers, but only if they address the pressing challenges around cash flow management and getting paid.
Dow
nload the recordings and various resources from ACCELERATE 2022 and make an immediate impact on your financial institution.
The following conversation was edited for clarity and brevity.
Applying learnings from a previous venture
Steve Robert: Thanks to our former involvement in Billhighway, our teams have a deep background in treasury, cash management, lockbox, merchant acquiring, and even some corporate prepaid. As a result, the core part of Autobooks is built on top of a pretty strong team and acumen.
And so when we started looking at the market in terms of what's next, what do we do? We've learned all this tremendous information about banking and payments, and nonprofits (which have similarities to small business even though they're oftentimes run by volunteers). We knew our customers weren't particularly sophisticated, so our job became to make complex things easy.
We began to evaluate the tools in a larger market: small business. We researched products like QuickBooks, PayPal, and Square. Now this was around 2016, and what we found generally is that we didn't feel like any of them were hitting the mark. QuickBooks, for example, was really a tool that catered to accountants. As a matter of fact, we realized that some of those tools were holding back businesses from making meaningful progress.
The small business challenge that became the genesis for Autobooks
Steve Robert: The small businesses we studied didn't always have general ledger requirements as much as they had cash flow challenges. These were businesses that were struggling to get paid. They were struggling to run their back office, and struggling to find a common system that didn't intimidate them. These were the jobs, if you will, that they were trying to solve.
The premise for Autobooks was cemented around automated bookkeeping (the origin of our name, Autobooks). Our goal is to build something of an invisible accounting system, so that it kind of slips away into the background for the benefit of a small business that's just trying to make ends meet. You know, someone who might be sitting at the kitchen table on Saturday night, trying to understand the cash in cash out. We want to give them the right tools and a little bit of automation, and most importantly deliver it in a place that they already know and trust: their primary financial institution. That was really the genesis for building Autobooks.
Our growth is closely tied to our many partnerships
Steve Robert: We were founded in 2016 — in Detroit. We now have a little over 100 employees, and we go to market pretty much exclusively with partners. We decided to align ourselves with channel partners very early on. We know, like you, the challenges of working with a fintech, and the various integration and security and reputational risks that that exposes. And by partnering with these organizations and others we believe together, we can help your financial institution focus on the results and the outcomes, rather than all the various nuts and bolts — to standing up a vendor, risk management and compliance and security, as well as all the certified integrations required — before you can even begin delivering value to your customers.
By aligning with all these partners, we've developed a turnkey integration such that it's paved the way for some impressive growth. We're now in just over 1,300 financial institutions. That's up from 300 and change this time last year. Again, largely on the back of those partnerships, where they began offering Autobooks as a standard feature within a financial institution's respective business digital banking system. We now have crossed over 125,000 small businesses on the platform, and we're adding over 10,000 a month organically through these partnerships with you all.
And again, the benefit there is that these are relationships that we've formed to help you, the financial institution, better serve small businesses. This in turn leads to increased engagement and activity and primacy. And it's working — we're seeing lots of volume, lots of transactions, lots of integrations. And that was really just table stakes for us to enter into this market and be a high value partner to you all.
Uncovering the challenges around cash flow management
Steve Robert: In 2020, we started to accelerate some of those technology integrations I spoke of earlier, and some of those early customers helped us raise awareness with our partners to ultimately become a higher-value stakeholder in delivering value.
Around that time, we started getting the attention of larger regional banks. So many of you are aware that TD Bank is one of our larger customers and, in full transparency, they're also an investor in the business. They believed in this long-term vision of delivering value to small businesses and staying at the center of your customer's financial lives, and then playing to our respective strengths. Also, they helped us to gain a deeper understanding of their customer's needs as well as the needs of their prospective customers.
And that's when I think the aha moment came. Chris, our Chief Product Officer, began to more deeply study and interrogate our small business end users — to better understand their why. You know, why would a business choose Autobooks instead of another third-party solution? What he found was, as valuable as accounting was, it's only something that business owners thought about a couple of times a year, maybe at year end or tax time, or maybe when they're working with their banker for a line of credit or some working capital needs. What he discovered was that invoicing and payments was something businesses were struggling with on a daily basis!
And again, it just illuminated the notion that cash flow is oxygen for these small businesses. So as a company, we really began heightening our priority around driving systems and tools to help these businesses unlock cash flow.
The rise of independent workers
Steve Robert: Next, I'd like to touch on the state of small business banking and the concept of the Great Realization [people seeking greater happiness and fulfillment in their work] which coincides with the rise of the independent workforce, and people doing something they feel passionate about.
Concerning the independent workforce, some interesting stats came out recently. First, there's been an unprecedented number of new businesses started during the pandemic. In addition, we've seen Baby Boomers transition out of the traditional workforce, and into careers of consulting and freelance. At the same time, Millennials and Gen Z have become widely interested in self-employment and entrepreneurship. In all, we've seen something like a 70% increase in this independent workforce since 2019.
As part and parcel with this phenomenon, many businesses are changing their habits around how they get paid. This is turn has led to the rise of third-party competition.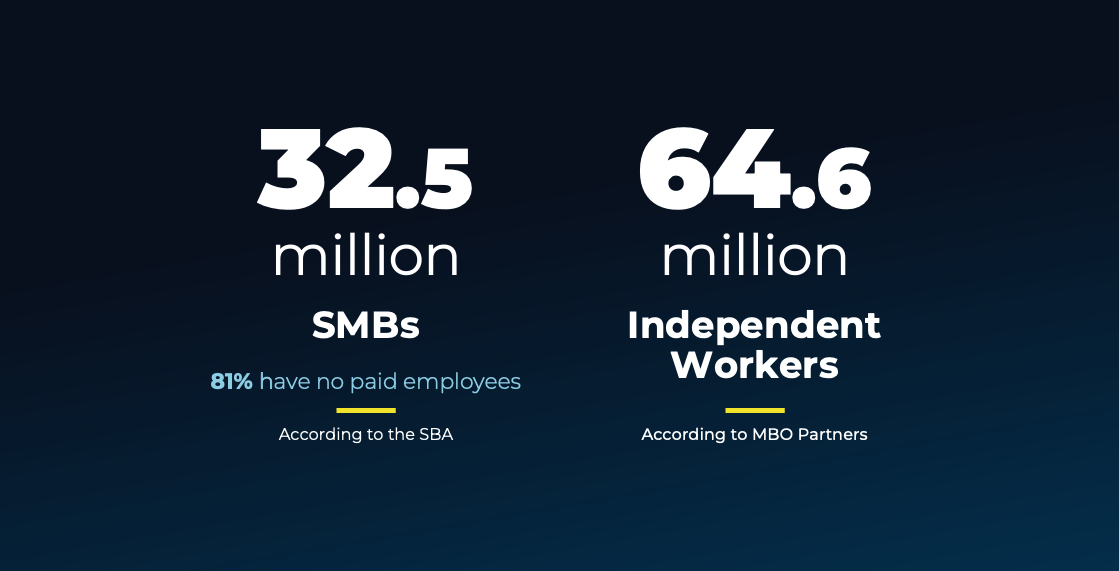 The state of small business banking today
Steve Robert: But where we find ourselves with some of our recent data and interviewing is that most small businesses — along with these independent workers — are increasingly moving away from accepting checks and cash. This is an area where Autobooks really has had a lot of success is helping those businesses as they're transitioning away from a file cabinet, from an Excel spreadsheet. These businesses need to get paid. That's their primary motivation. They can't think about anything else until they do.
So again, it's just paramount that we, the financial services industry, are there to help them with this number one need, and we don't outsource it to a third-party competitor.
A new partnership is underway
Steve Robert: And then, finally, this year the flywheel really began to turn. I mentioned our growth earlier, and the fact that we are bringing a lot of businesses on board every month.
We made a new announcement about adding a new way for businesses to get paid. Transforming mobile banking apps into payment terminals that can accept payments with just a tap. This will be our focus early next year, so that we can better help your institution reclaim that business relationship with your customer.