The training resources you need to get your in-branch teams up to speed
In the third session of Autobooks ACCELERATE, Kim Reher takes her audience through a brief tour of the current Autobooks resources, and shares some of her experience working directly with financial institution staff. Kim also touches on the Autobooks Support Center, a powerful new knowledge base for users.
Download the recordings and various resources from ACCELERATE 2022 and make an immediate impact on your financial institution.
The following conversation was edited for clarity and brevity.
Three

a

pproaches to

Autobooks

t

raining
Kim Reher: We use three different approaches to accomplish the goal of educating your staff on our product because, frankly, the more educated your staff is on the Autobooks product, the more confidently they can speak about it.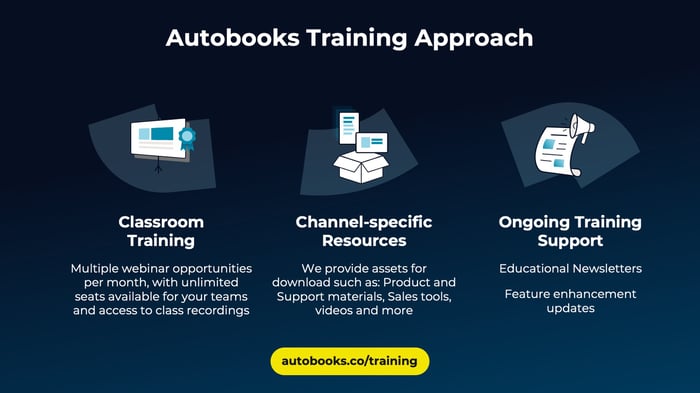 The first way is classroom training. That's maybe very impactful for certain folks. But some folks want to read about the thing and see the thing in their hands. So we also give resources for you all to download, and last, we give you some content for ongoing learning.
When we first introduce the product, that's a great event. It's very exciting. You've got something new. And then, after that event happens, there's another new product behind it that your staff needs to learn about and take care of and promote. So it's easy to forget the details.
That's why we provide you tools to help remind the staff that, "Hey, this Autobooks thing exists." And we still want to keep talking about it, but in very easy ways for you to accomplish that goal.
We provide you classroom training that is Autobooks led. So even if you don't have a trainer on staff, or you can't get them to commit to helping you promote this product, we offer classroom trainings about five times a month. We have webinars that you and your staff can sign up for, and it doesn't matter the role, so it's not focused simply on sales. It's not focused simply on customer support. It's really for all the general in-branch population.
You've got it there so you can do some upfront planning if you need to do so. And once you register for those webinars, you'll get a link to a recording in case you're not able to attend the live event. Don't worry You're going to have the recording of that session for yourself, and that session can be use in perpetuity for other reasons. So that's our classroom training that we offer as a standard for all of you.
The second approach that we take is through resources. We have dedicated resource pages where you can download assets and place those in your internal learning libraries, whether that's a SharePoint site or a learning management system.
The other thing that we provide are basic sales tools. These are talking points that might appeal to a customer that owns a small business. We also provide a document comprised of talking points that might appeal to a nonprofit, because those customers benefit equally from Autobooks. The other item that we provide is a comparison chart. How do our features compare to some common third-party providers that your customers may choose?
If you go to your dedicated channel resource page for the marketing team, if you've accessed it already, you're going to see a link to training resources there. We also have a general training page as well with channel-specific content, such as a guide with the specific steps for enrollment.
The third approach has to do with ongoing training support. There's a couple of things that we can provide to you to help your staff. First, there's a regular newsletter to keep Autobooks top of mind. And then also, we send out feature enhancement updates.
So my team partners with marketing to send out information to you when we enhance features and make them Autobooks better. If you're receiving that email of feature enhancements as a single point of contact from the Autobooks team, we encourage you to forward that on to your staff and make sure they're aware that we've created some new feature, some new enhancement that really helps your small business owners and your nonprofits be successful.
A step-by-step guide
Kim Reher: One of the most practical things that you can do with the training resource page is to follow the step-by-step plan. So within the training resource page it's a 4-step process. Each step includes downloadable resources to make the process even easier.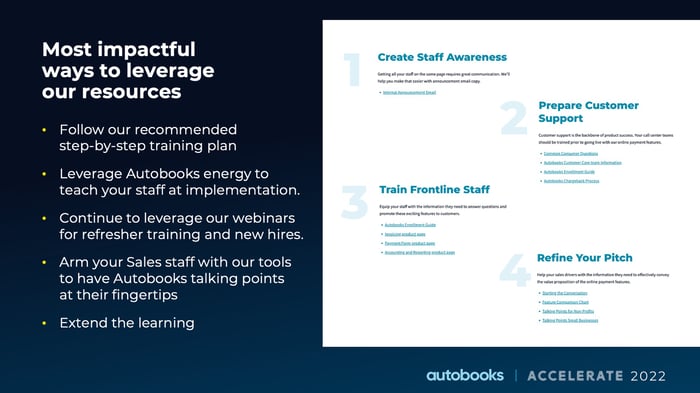 Keep in mind that any time you need to promote Autobooks during a seasonal event, such as Small Business Week for example, you can always direct your staff to these resources. It's a great way to relearn and review, especially if it's been a while since they've had to actively promote Autobooks in the branch.
By the way, step four is entitled "refine your pitch." Those are the sales tools I discussed earlier. So you're going to want to distribute those, particularly to the staff that is tasked with talking about Autobooks to customers. We find that the frontline staff get a little nervous about talking about small business tools when they don't know a lot about managing a small business. These talking points-focused tools are designed to help guide them during these sometimes-intimidating conversations.
We recommend that you access this step-by-step page prior to launching Autobooks. Download all of the resources, organize them inside your institution's intranet, and then be sure that your staff knows how to access all of this content. The same goes for the team-wide trainings — ensure that your staff is ready to talk about Autobooks before you actually launch our product.
Once again, the four-step guide and all of these great resources are available right now, at Autobooks.co/training.
Product updates to keep you in the loop
Kim Reher: The Autobooks solution is updated regularly to continue to deliver value to small business customers. Many of these updates happen as a direct result of customer needs and requests. That's also why your in-branch staff should at least be aware of these changes.
For example, in just the last few weeks, we made an important update to invoicing that now allows for users to calculate the impact of the processing fee when they determine the price of their products and services, and when they add these new products to their invoices.
Of course, we make it a point to communicate these changes to your small business customers as soon as they go live, via email, and we also communicate them to your institution by email. But either way, it doesn't hurt to visit this page regularly, in case you missed an email notification.
To learn more about the product pricing tool update, as well as all of our other updates, visit autobooks.co/product/updates.
Introducing the new Autobooks Support Center
Autobooks users working inside their institution's digital banking can easily click Help to access this new archive of how-to articles. That means they don't have to leave your channels to get their questions answered.
In addition, there's a support ticket tool available from this same page. In the upper-right-hand-corner, a user can submit a help ticket to schedule time with an Autobooks expert.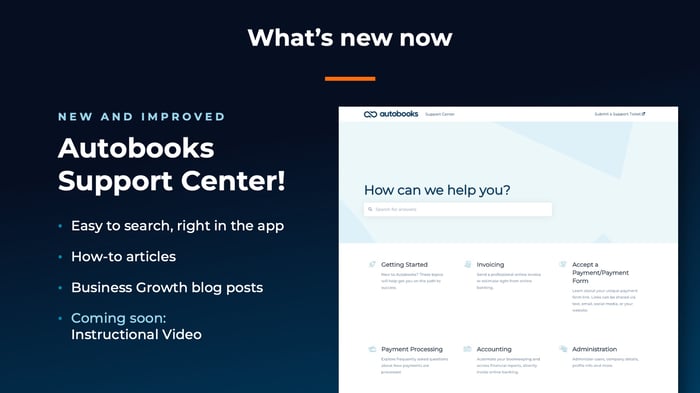 The Support Center is in its nascent stage, there's much more to come. In the works is a small business growth blog to help owners better understand how they can leverage the Autobooks solution. We've launched one article so far, that delves into some great use cases for QR codes. We'll also be launching short how-to videos intended to supplement most article entries.