Why small businesses need your financial institution, and how we help
In the fourth session of Autobooks ACCELERATE, Jordan Skole explores the importance of context and proximity when it comes to small business customers. Autobooks was not developed in a vacuum, but came about as a direct result of customer need. Our growth comes on the back of our financial institution partners that continue the hard work of supporting their small businesses.
Download the recordings and various resources from ACCELERATE 2022 and make an immediate impact on your financial institution.
The following conversation was edited for clarity and brevity.
The right message for the right user at the right time.
Jordan Skole: My exposure to small business came about right after college, when I launched my own business as a website developer. My clients were also exclusively small businesses, all based out of Metro Detroit. It was a privilege to work with many of them, because, more than anything, I came to to appreciate their hard work and dedication.
Several years later, I joined the small business team at Autobooks, where I was able to continue working with small business, this time by developing email campaigns and messaging. Our intent was to always identify their struggling moment, so that our messaging could better resonate with their experience, especially in their time of need.
Now I'm in charge of the FI team, but essentially, I have continued the same work that I started many years ago.
And then COVID changed everything
Jordan Skole: As we all know, when COVID hit, many small businesses were deeply impacted. And in many ways, it also shot our industry forward ten years, all in a matter of months.
I want to briefly share a story of one real small business owner we met, and how she was able to overcome all this adversity by changing the way she did things.
Elyse has owned a business since 2011 that specializes in gently used furniture and home furnishings. Before COVID-19 customers came to her brick-and-mortar location and made purchases in person, with card or cash. After the pandemic, she lost her foot traffic. Elyse needed to find a way to give customer access to inventory and provide an easy way for them to make a payment.
"We shifted our efforts to Facebook where we posted photos of our furniture for sale. When a customer wants to purchase a piece, we simply send a payment form link so the customers can pay online. Now, we can continue doing business during this challenging time when customers are practicing social distancing. It also gives us a way to connect with our customer base and gives them a convenient way to pay for the products they love."
Nowadays, an approach like this seems mainstream, but during that time when we were all doing things the way we always had, making a change like this in just a few weeks was almost unimaginable. Thankfully, someone at her financial institution was there for her and understood her need, and Autobooks was something her banker could offer, a solution that absolutely addressed her struggling moment. Elyse was able to rely on the Autobooks payment form to take payments in-app, as her customers picked up their furniture at the curb.
These are the kind of success stories that fuel us. This is the stuff that matters — that we can help an owner to continue to run their business. And every paid invoice counts. Just a handful of additional invoices paid can mean the difference between staying open or having to shutter.
Here's a question I like to ask: What do small businesses and banks have in common?
Answer: We're all competing against the same companies: big Silicon Valley players with bigger marketing budgets, bigger teams, and deeper pockets.
Bankers are warriors
Jordan Skole: I want to share a couple of our values. So the first value is that we really believe that bankers are warriors. We believe that bankers are the heroes in this story. In this image, the banker is Mario. So you guys are the real heroes. You all are the ones that are dealing with businesses in the front lines. Autobooks is just the flower, but we give you the superpower that helps you to compete against these bigger, deeper-pocketed competitors.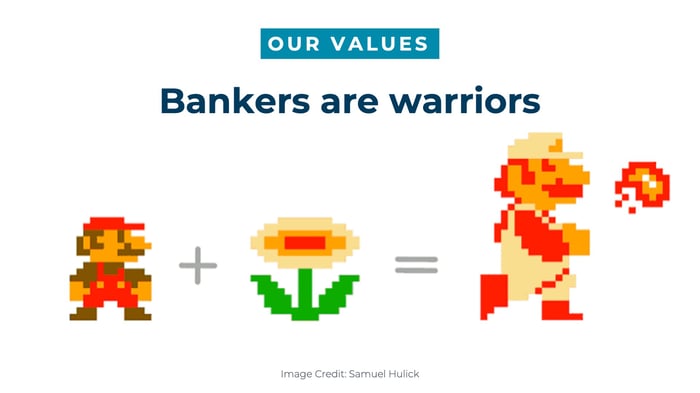 But to bring this back to reality, the one crucial thing these third-party companies don't have is a relationship with the small businesses — what we mean is a real face-to-face relationship with the small business owner. You know these customers at your financial institution. Your very success is based on these relationships, and on the trust that results from it. So this is something that we appreciate deeply about our FI partners. And really, we want you to understand that we are there to empower you in your relationship building. We will never be Mario in that narrative!
The Autobooks Hub and our vision for 2023
Jordan Skole: The Autobooks Hub has expanded dramatically in just the last seven months or so. We went from just offering marketing tools and a few basic reports, to what we have now. If you haven't logged in yet, or it's been a while for you, we think you'll be pleasantly surprised.
Today, we offer a wide range of reports, including competitive displacement reporting to help you stay on top of third-party competitors. And just last month, we've added an action-reaction center that helps you stay on top of customer enrollments, and more specifically, what customers are missing in order to complete their Autobooks enrollments. That way, you can step in as an institution and facilitate that process, such as by plugging those information gaps.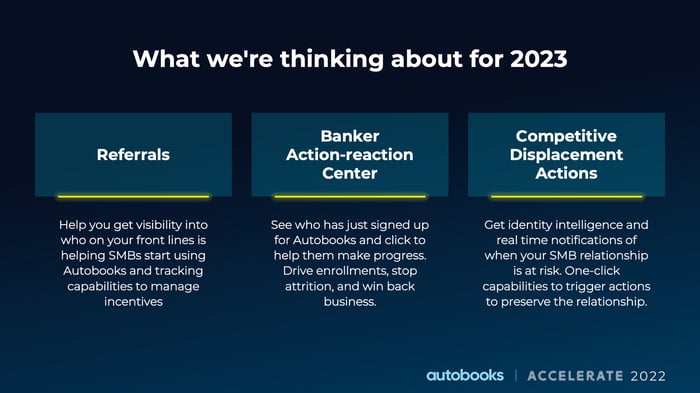 For 2023, we want to get frontline staff at your institution into the Hub. We want to provide program managers with the ability to track which branches and team members are driving the most enrollments in Autobooks, as well as the most activations. And we consider activations when businesses are actually using Autobooks to get paid. We're also going to further develop the action-reaction centers I touched on earlier.
And then we are also going to be rolling out even more competitive displacement actions. And when we're talking about competitive displacement, we mean that we want to help your institution stop attrition and win back small business customers. Stay tuned for more!